Exhibition Make Haste Slowly / Duo Faste

Giving shape to Erasmus's Adagia
Ceramic works
Caroline Andrin and Étienne Fleury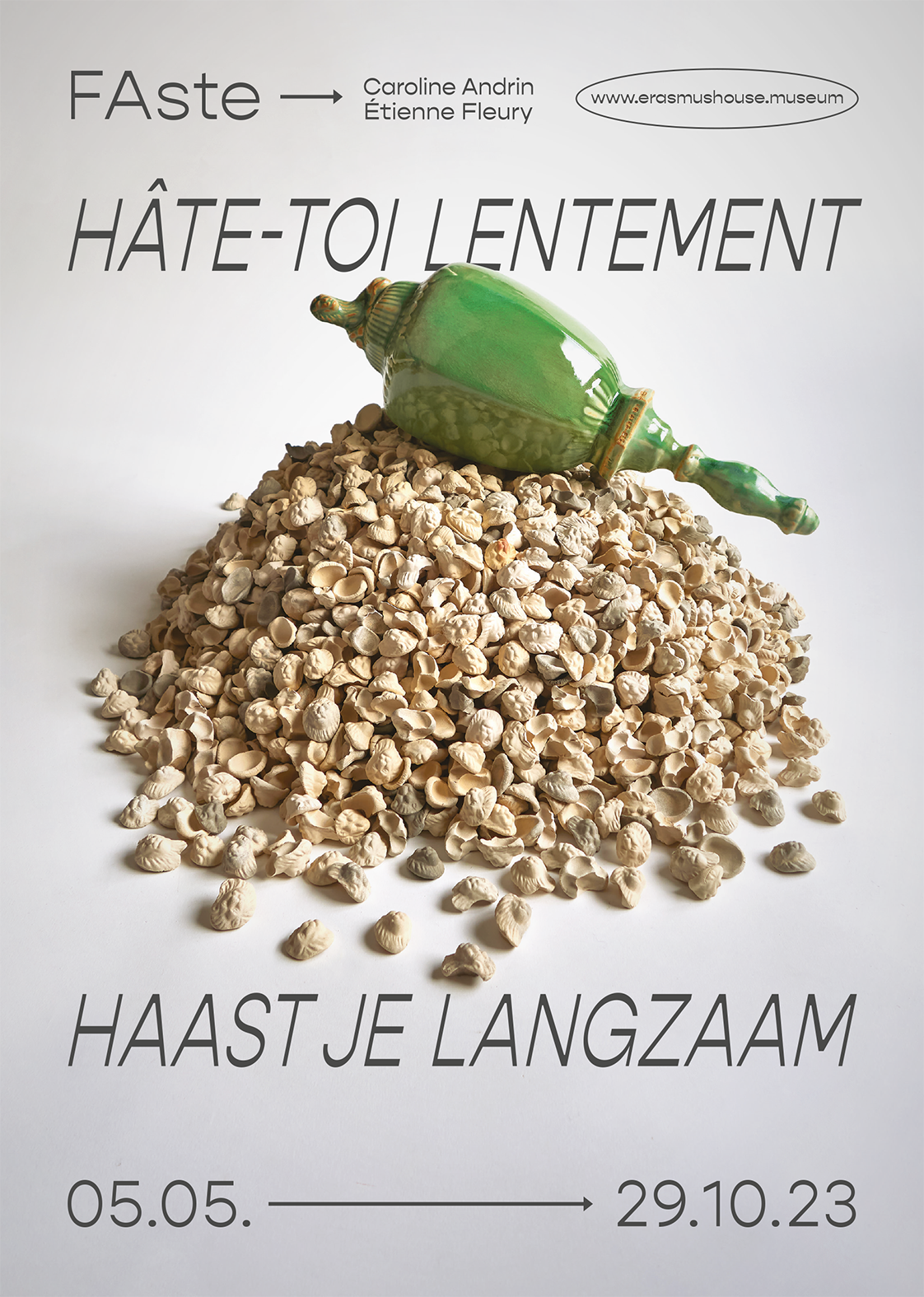 Caroline Andrin and Étienne Fleury have been working together under the name FAste (Fleury Andrin studio) since 2018.
The name of their duo is inspired by Ovid's Fasti (Fastes in French) and stems from the desire to produce works of art studded with classical references, with magnificence in the foreground.
Both are ceramic artists whose respective work is rich in technique and know-how. They see pottery as an expression of beauty in daily life. Their inclinations as creators are to keep precious skills alive, to preserve the history of pottery making by giving it a new lease of life by seeing it through another prism.
They use a repertory of forms borrowed from various china factories and then add contemporary moulded or modelled elements to these foundations. Continuing in the same vein as their previous works, FAste have maintained their will to work along such lines, this time using moulds from Belgian china factories.
The duo thus collected moulds from the Royal Boch factory in La Louvière and H. Bequet's workshop in Quaregnon. They then set to work, proceeding empirically, moulding, modelling, assembling and adding what might at first seem a mixed bag of elements.
Portrait FAste, Caroline Andrin and Étienne Fleury with Léda © Ivan Citelli
The ceramist duo FAste (Caroline Andrin and Étienne Fleury) is taking over the rooms of Erasmus House to offer an unprecedented interpretation of Erasmus's Adagia in sculpture form.
This first-of-its-kind exhibition, called Make Haste Slowly, in reference to one of the 4151 sayings, unveils a series of ceramic works almost all of which were created for the event.
Together, they create a link with the famous humanist's writings and thinking in a singular and resolutely novel way. With this artistic proposition, the artistic duo FAste opens the door to a field of research that few have explored to date.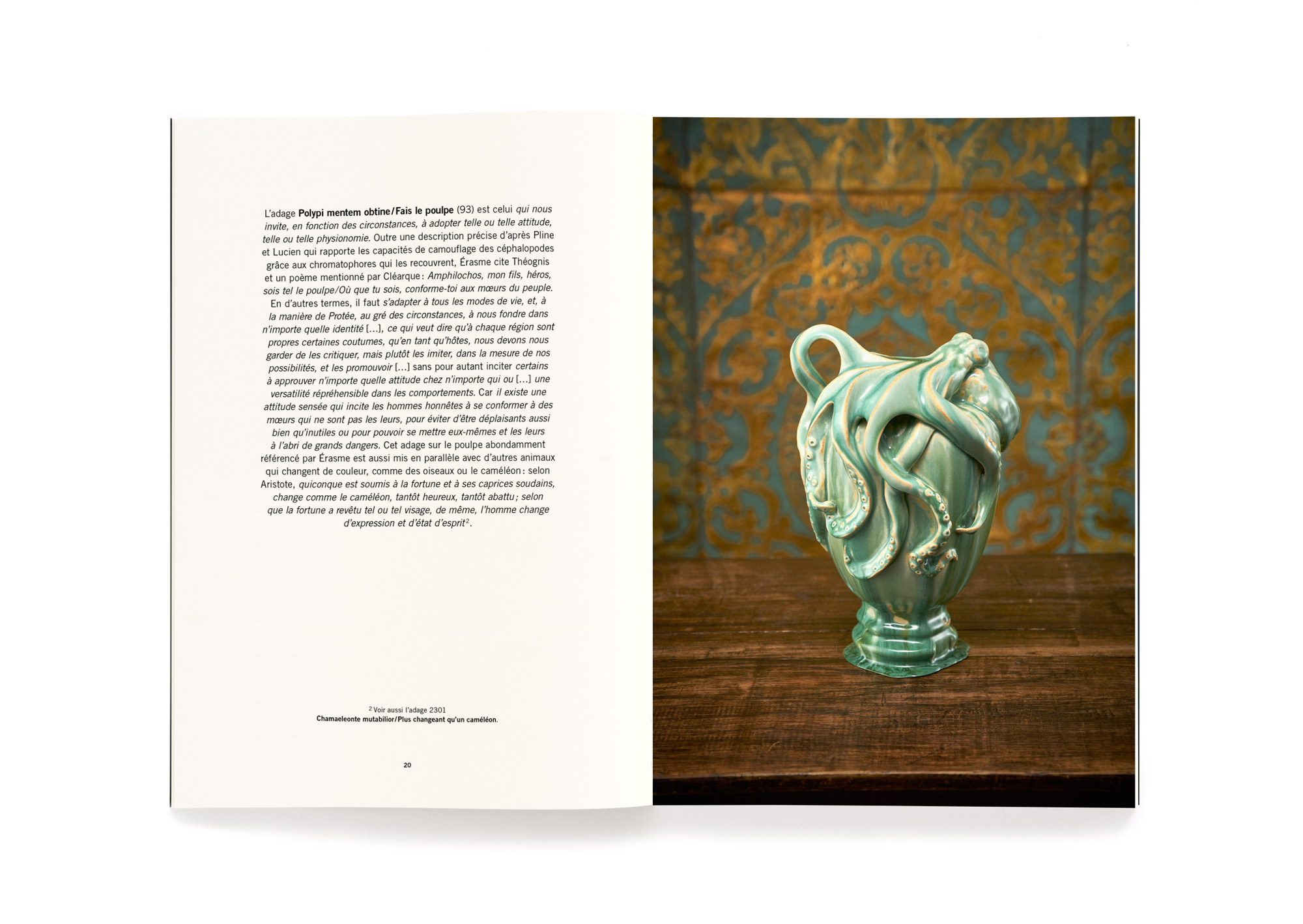 True to their programming course, the Erasmus House & Béguinage museums regularly invite contemporary artists to create a dialogue between the collections and our time. These exhibitions are interwoven with the museum and invite the public to consider these venues, filled with history and ancient art, in a different light.
Today, Erasmus House is highlighting the ceramic work of the duo Faste, for whom this is a first personal exhibition, and one of Erasmus's fundamental works, Adagia (Adages), at one and the same time. Adagia is a set of maxims from Antiquity that the humanist translated and glossed. This compendium, which is both scholarly and entertaining, inspired the artists Caroline Andrin and Étienne Fleury (Faste) to incarnate the sayings.
To produce this new series of works, the artistic duo delved into the complete bilingual (Latin/French) edition of Adagia published by Les Belles Lettres in 2011 under the editorial guidance of Jean-Christophe Saladin. Whilst the oxymoron "make haste slowly" might illustrate a philosophy of life for Erasmus, it also incarnates the potter's work, i.e., a creative process that demands time and patience. The saying ties in with a school of thought that challenges the cult of speed and underlines the fact that the quality of life hinges on a better balance between speed and slowness. This opinion, which was already expressed in Antiquity, was taken up and commented upon by Erasmus.
Sayings, and the sayings in this book in particular, are also hidden treasures offering great freedom of interpretation. Many of them evoke images or situations. It is thus a good idea to invent a new language made of metaphors and to play with eclecticism using fantastical analogies. FAste seeks inspiration in this freedom of interpretation to create three-dimensional works woven from all these image-producing references and quotes. This set of original, baroque, unprecedented works of art offers a simultaneously classic and contemporary view of pottery and highlights both the historical perspective and technical possibilities of working with clay.
Free Sundays
10:00 – 18:00
On the first Sunday of each month, free admission to our museums
Dates: 01/10, 05/11, 03/12
10:00 – 18:00
At the Erasmus House and the beguinage
Guided tours, Exhibition Make Haste Slowly, workshops (Latin), games for children
Free!
18:00
Piano performance on the theme of the Adagia
Produced by the Erasmus House & Beguinage museums in partnership with the Nuits du Beau Tas.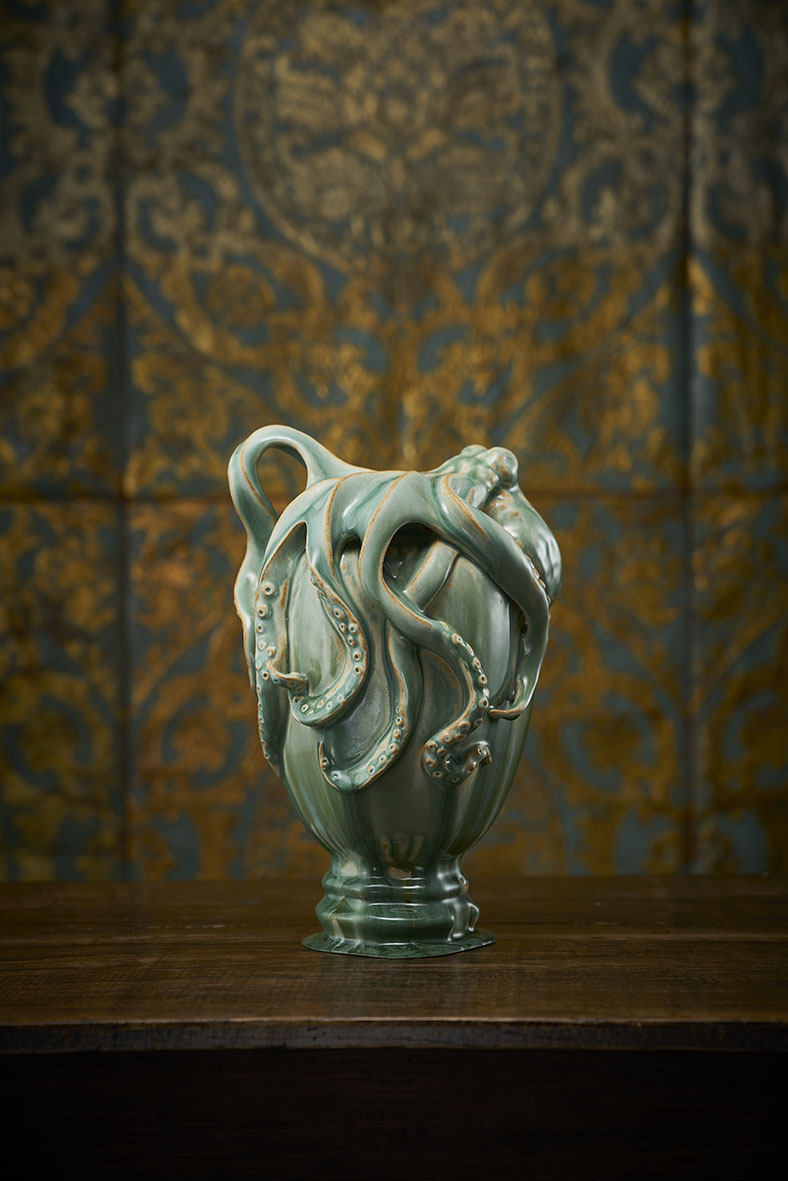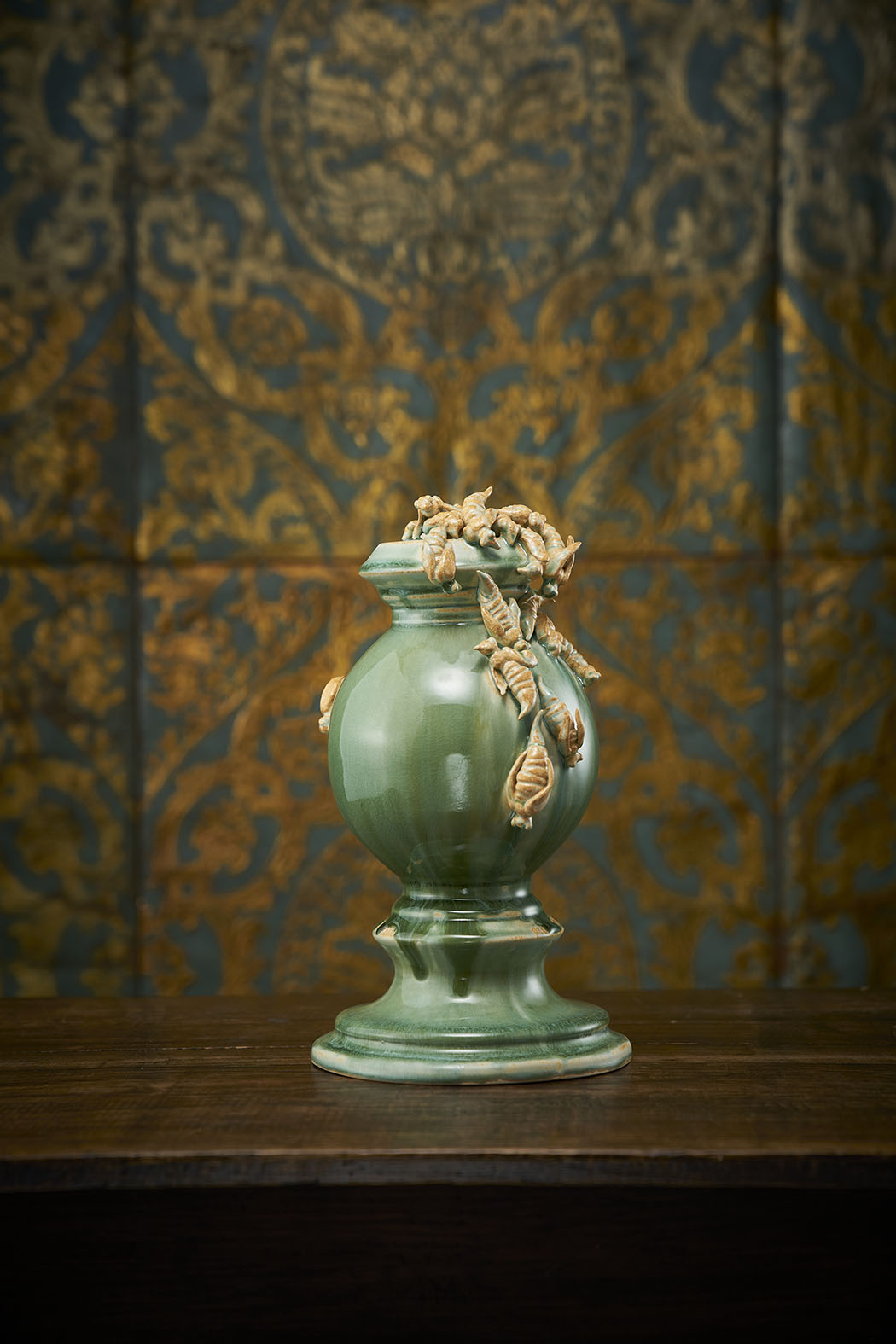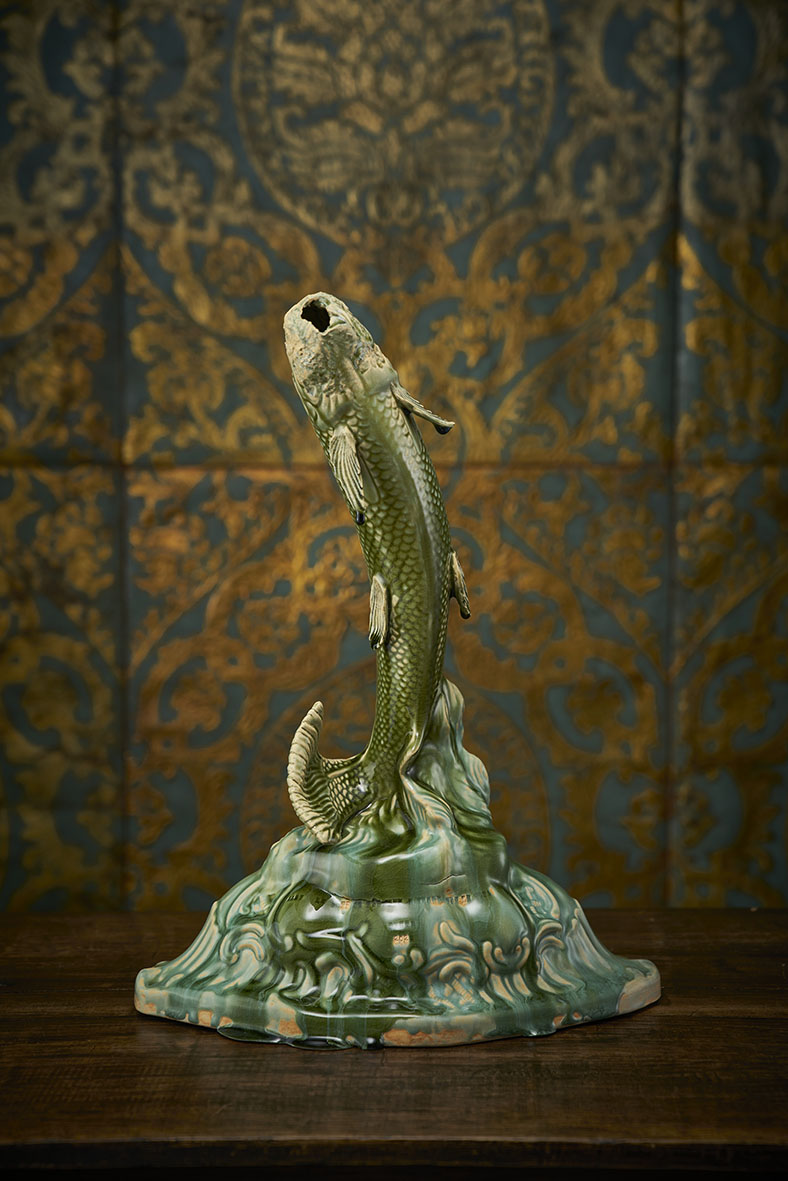 1. Faire le poulpe, FAste – 2. Irriter les frelons, FAste – 3. Le poisson pourrit d'abord par la tête, FAste © Ivan Citelli