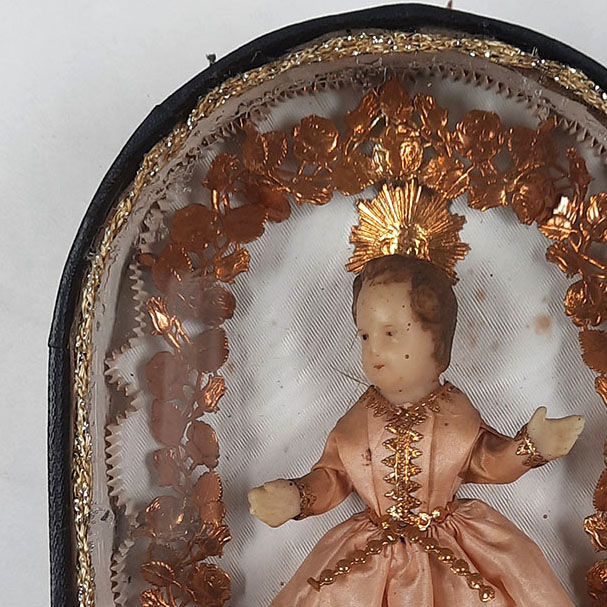 The unusual objects No. 4

"Honour the Eternal with your possessions": Dressed wax figures – objects of private devotion
While the Beguinage remains closed for renovation, Erasmus House is putting an unusual object from the vast historical, archaeological, folk art and religious collections of Anderlecht's municipal museums on display.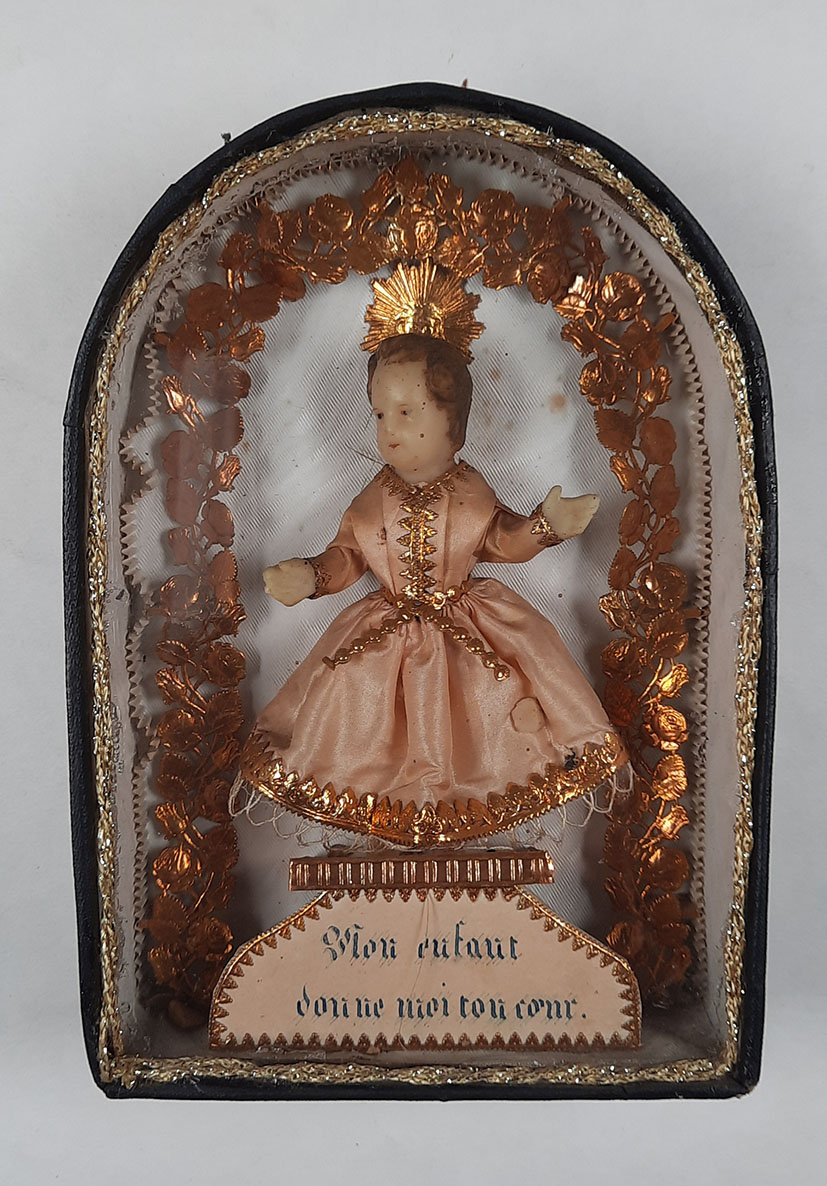 Dressed wax figure under glass representing Jesus as a child
Cloth-lined wooden box sealed with a glass pane and containing a wax doll wearing a gold-hemmed, pink cloth gown and standing over the inscription "My child, give me your heart". Garland decorated with gilt plant motifs. Figurine flanked by two gilt leaves.
Belgium
Circa 1800-1850
Wood, glass, cardboard, paper, cloth, wax
17.7 x 11.8 x 3.7 cm
Inv. No BEG 5644
The practice of dressing devotional images arose in France in the 18th century. Certain items in particular, called cires habillées or dressed wax images and figures, were extremely popular at the time. Making them was complex, requiring the help of a large number of specialised craftspeople, such as a wax worker, wig maker, and tailor. The figures in these frames – sometimes forming miniature theatrical scenes – could be the patron saints of a place, trade, or family, or even biblical characters. These dressed wax creations, whether precious objects, embellished with gilding and trims, or pious images for private devotion, invited themselves into the bourgeois and aristocratic homes of the Enlightenment.
From the origins of dressed wax images…
Such works were produced by nuns in Germany, where they were called "cloister work", well before the 18th century. Dressed statuettes were also made in our region starting in the 16th century, albeit in a style different from those of the municipal museums of Anderlecht. They can be seen in the figures in the enclosed gardens of Mechelen.
The practice of dressed wax figures was then taken up by the brothers Nicolas and François Guillot, who launched their production in the city of Nancy, in Meurthe-et-Moselle Department, France. The dressed wax fashion quickly spread and these images were put on new backings. So, fans displaying figures onto which clothing was sewn came on the market. One such fan, called Joies de la campagne (Country Pleasures), was displayed during an exhibition in the Cognacq-Jay Museum in Paris in 2013. The figures are fully clothed in coloured silks highlighted with gouache.
… to their international production
Dressed wax images met with such success that the Guillot brothers began making them for export; some were even sold as "do-it-yourself" kits. They were disseminated by door-to-door salesmen and itinerant merchants. Whilst the Guillot brothers were the best known in the trade, they were not the only manufacturers of dressed wax figures and images. Other workshops, as well as some convents, also made such items.
The stylistic differences between the French pieces and those in Anderlecht's municipal holdings – discernable in particular in the dolls' faces and the quality of their manufacture – are indicative of the latter's probable local origins. What is more, the Municipal Museums of Anderlecht have about a dozen similar works in their reserves that appear to support this hypothesis. These objects might date back to the first half of the 20th century, as the materials used to make them would seem to indicate, and certain fresher-looking elements may have been touched up or replaced in the interim.
Three Dressed wax figures from the collections of Anderlecht's municipal museums
Research and text
Meggy Chaidron
Acknowledgements
Zahava Seewald
Céline Bultreys