Frightened by the disastrous social consequences of the many wars that he observed throughout his existence, Erasmus never gave up exhorting these sovereigns through his letters or books to bring peace to their respective peoples.
Dulce bellum inexpertis
War is sweet to those who do not wage it.

Erasmus, Adagium n°3001 (IV, I, 1)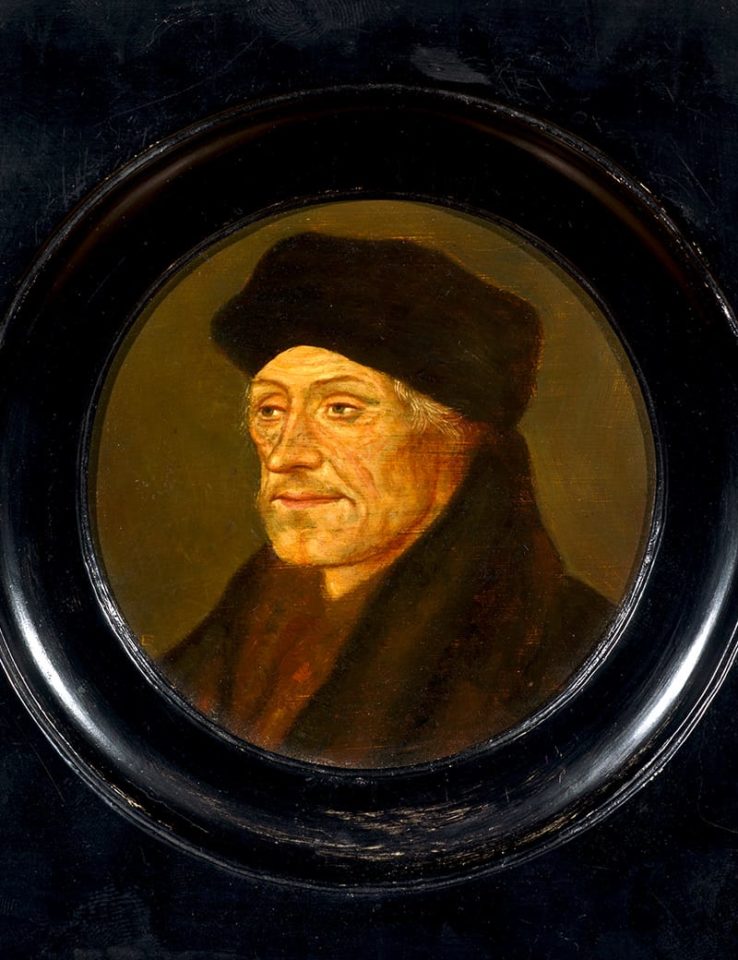 For Erasmus, the main function of the ecclesiastical institution was to disseminate Faith, and consequently, it was not to be run like a State. His attitude got him
embroiled in a vast wave of criticism engendered by traditional theologians. His books and ideas contributed to a situation whereby the Protestant Reformation would be set in motion and undermine the Catholic Church's official stance. Erasmus, although he was often controversial in his day, did however never become Protestant and he died in the bosom of the Roman Catholic Church.

Erasmus was convinced that, because human affairs were by their very nature ambiguous, one should never condemn – ex abrupto – another's ideas. Confronted by various forms of strangeness (from people beyond the seas in America, Muslims or Reformers), the humanist was able to draw up an idea of Man which defined him independently of his religious faith and endowed him with free will.
The Unity of European culture

He defined himself as a citizen of the world, refusing any attachment, and only sought out those countries where culture and humanism flourished. The two societies in which he claimed allegiance – and in this he was a true European – were the Republic of Letters and the Christian Church.
Ego mundi civis esse cupio communis omnium vel peregrinus magis.
My own wish is to be a citizen of the world, to be a fellow-citizen to all men – a pilgrim better still.
Erasmus, Epistola 1314, V, 129, 2.