Erasmus is constantly on the move. His search for new biblical sources, benefactors and later his own obligations, oblige him to travel incessantly throughout cultured Europe, thereby developing a real network of friends and a community of thinkers.
He spends his youth in the Low Countries (Rotterdam, Deventer). During this time he becomes a monk in the Steyn monastery where he acquires his knowledge of Latin, the international language of his time.
He leaves the monastery to undertake more studies in Paris (1493), where he lives in straitened circumstances teaching Latin. It is when he is in England (1499) that he meets Thomas More and John Colet, who become his friends. He frequents the universities of Oxford and Cambridge, both as a student and a professor, during the reign of Henry VII.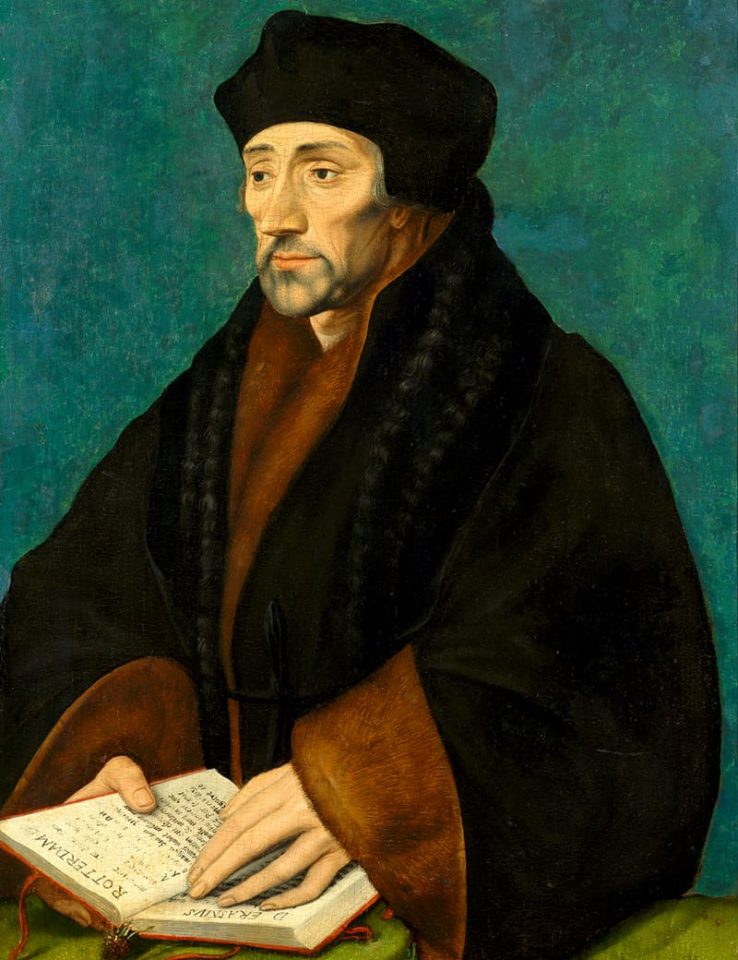 His travels in Italy (1506-1509) provided him with an opportunity to visit certain historic sites, consult famous libraries, develop his knowledge of Greek (essential for reading classical manuscripts) and meet numerous scholars who helped him in his research.
On the other hand, he is shocked by the magnificence of the papal court, the superstition of people and the aggressive warmongering of Pope Julius II, the protector of Michelangelo.
After he had become advisor to the future Emperor Charles V, he settled in the Low Countries (1516-1521) where he stayed in Antwerp, Bruges, Leuven and Mechelen… as well as Anderlecht, one of the modern-day communes of Brussels.
He ended his life in Basel, Switzerland, where he died aged nearly 70 in 1536, having become recognised worldwide.
Ubi amici, ibi opes
Your wealth is where your friends are
Erasmus, Adagium n°224